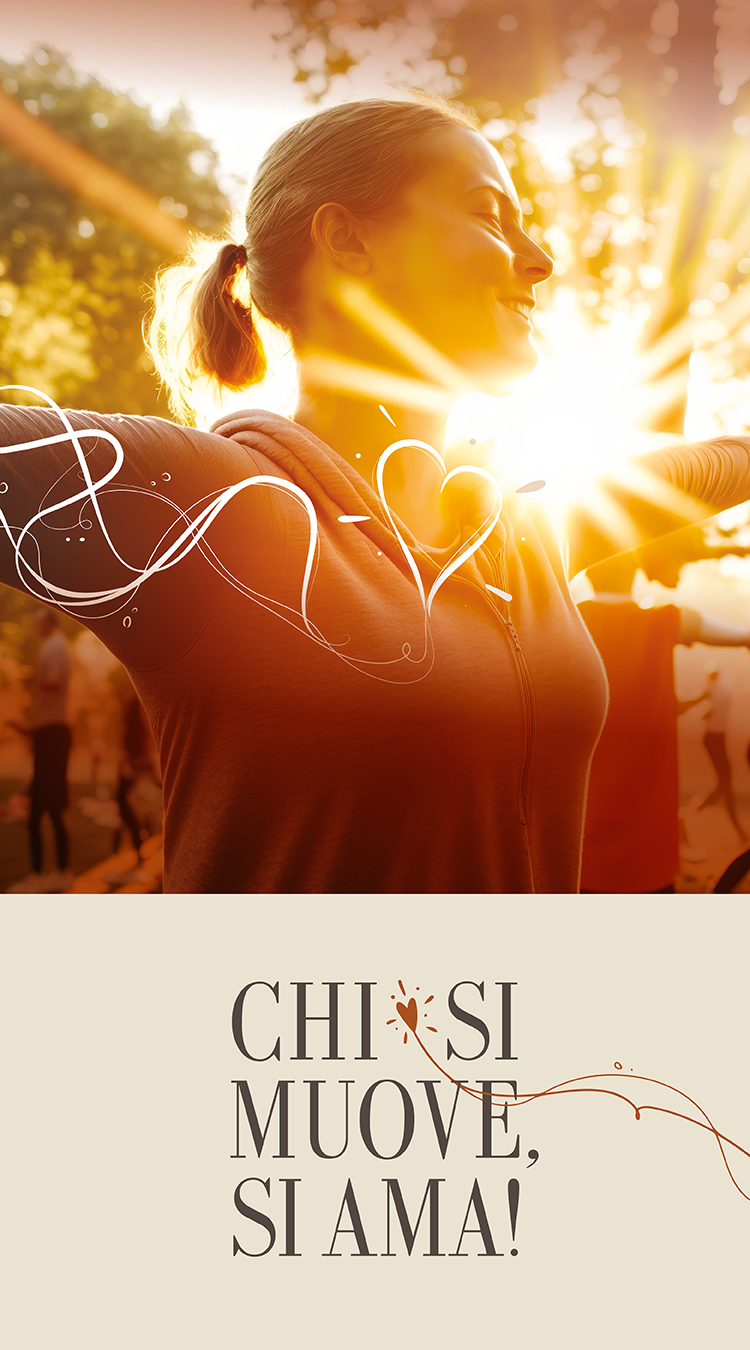 Little is enough to shape your well-being. Contact your doctor to find out more!
Regular physical activity offers several health benefits, it helps prevent chronic diseases such as hypertension, cancer, type 2 diabetes and osteoporosis and promotes an independent and healthy lifestyle in the long term. Moreover, physical activity also has a positive impact on mental wellness, helping to reduce stress and anxiety.
Regardless of age or fitness level, physical exercise on a regular basis is an excellent investment in health and mental and physical wellness.
"
CHI SI MUOVE, SI AMA!
" is the title of the campaign that was launched in September in occasion of the
Wellness Week 2023.
The campaign, organised in collaboration with Medical and Pharmacist Associations of Ravenna, Forlì-Cesena and Rimini, with the support of AUSL Romagna and the Emilia-Romagna Region within the framework of the 2021-2025 Prevention Plan, is aimed at the population of Romagna in the 40-60 age bracket.The goal is to promote the practice of physical activity as a means of improving quality of life and preventing non-communicable chronic diseases.
Wellness is waiting for you: a network of experts at your disposal

An adult should try to do some physical activity every day, at least 30 minutes, in order to reach the minimum weekly physical activity volume of 150 minutes recommended by the Ministry of Health and the World Health Organisation.

Talk to your doctor to find out which activity is best for you, and start changing your lifestyle today.
---

1. Pharmacies and parapharmacies
Get a free Wellness Check-Up from your pharmacist. It is the starting point for a pathway to transforming your lifestyle through exercise. Discover the list of pharmacies and parapharmacies participating in the initiative and visit the one nearest to you.
>> Click here and find out where to have your free Wellness Check-Up
---
2. Health gyms
If you are coping with a chronic disease, don't let your condition limit your vitality! Discover the benefits of a
dapted motor activity (AMA) and adapted physical exercise (APA)
designed especially for you. Explore the map of nearby Health Gyms and be guided by an expert kinesiologist who will create a customised exercise programme just for you.
>> Click here and discover the nearest Health Gym
---

3. Sports centres, gyms, swimming pools
Do you like swimming or water aerobics? Do you prefer a training session at the gym? Have you ever tried a yoga class?
By going to one of the gyms joining the campaign, you can have a dedicated information meeting and take part in a free trial lesson of your preferred activity right away.
The benefits for body and mind are at hand, take the initiative and be the protagonist of your own transformation.
>> Click here and discover the sports centres joining the campaign
---

4. Walking Groups
Getting active, in company and safely with a Walking Group, is one of the simplest and most fun activities that help you stay and get healthy while being outdoors. Explore the map to find the closest Walking Group and contact the leaders to find out how you can join the next walk. Participation is totally free!
>> Discover the nearest Walking Group and join the next walk
---

5. Video and Tips
You don't have time to go to the gym but you would like to start moving more? Thanks to online videos, you can work out where and when you like. Take control of your wellness, one video at a time!
>> Check out the videos and tips for you