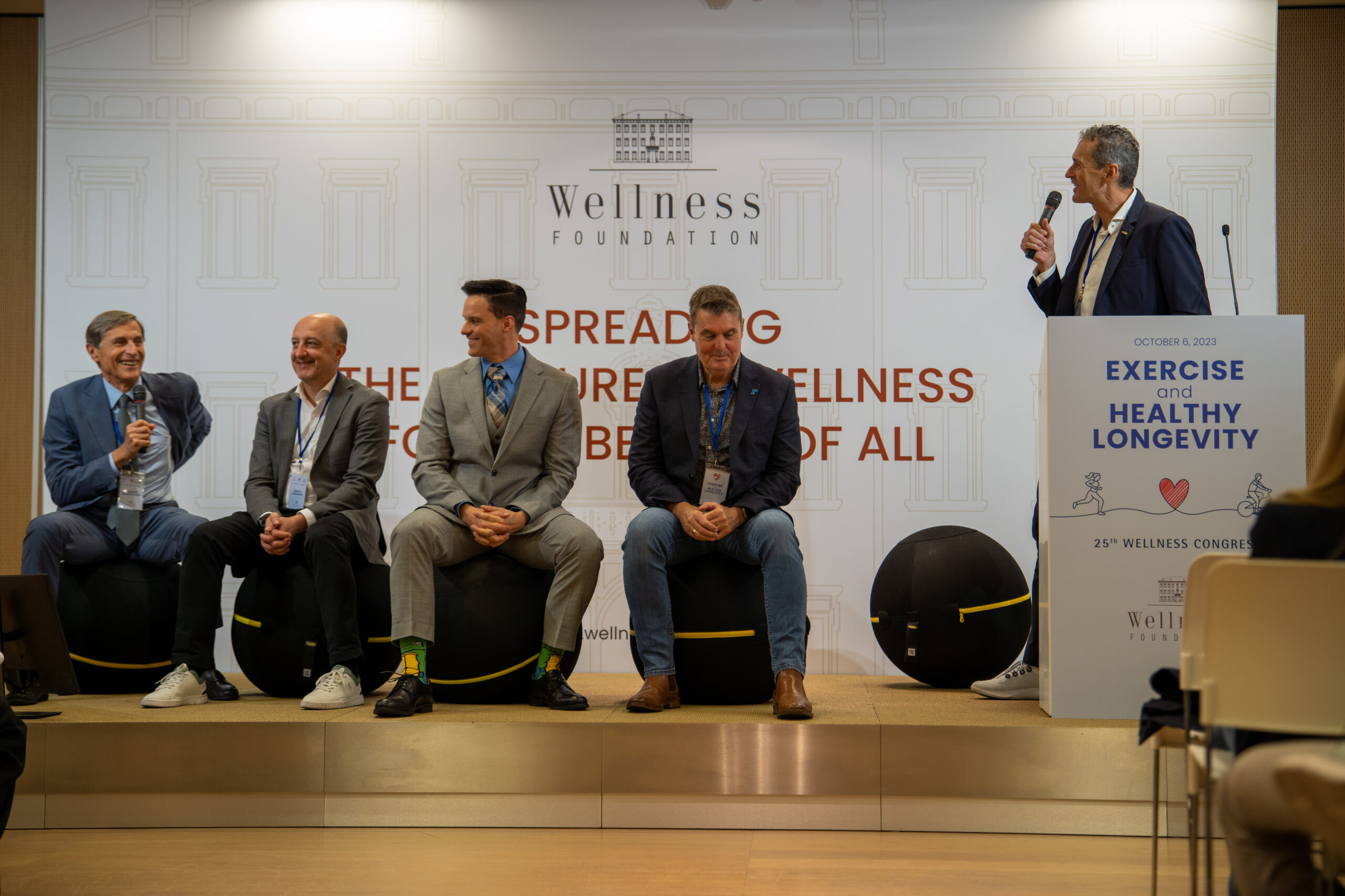 25th Wellness Congress: exercise and healthy longevity
19 October 2023
On October 6, the Wellness Congress brought together medical experts from around the world at Technogym Village to highlight the importance of exercise to healthy ageing.
The goal for both the world of medicine and the general public is no longer just to live longer, but to do it in an active and healthy way: exercise is the key to growing old while staying healthy and fit (healthy longevity). This was the central theme of the 25th edition of the Wellness Congress that took place on October 6 at Technogym Village: Exercise and Healthy Longevity.

The Congress took off with a speech by Wellness Foundation and Technogym President Nerio Alessandri, who firstly envisioned the concept of Wellness 30 years ago and then reiterated the importance of exercise for healthy longevity. The goal is to move from life span to health span: it is not enough to live long, people need to live longer and healthier.
Nowadays, nobody can ignore the 
positive correlation between physical fitness and the reduction of risk for the majority of non-communicable diseases
.
However, although the scientific evidence is growing, physical inactivity arguably remains one of the world's leading public health problems because we have engineered physical activity and movement out of our daily lives at home, work, for transportation, and during our leisure time. Healthcare professionals could play a major role in the battle against physical inactivity and that is why this Wellness Congress' edition was addressed to the medical community with the purpose of 
encouraging healthcare professionals to take a more active role in promoting physical activity and exercise
.
Only part of our life expectancy is "written" in our genes. Science itself confirms that
healthy longevity and exercise
are closely related, for example:


regular exercise helps prevents the main chronic diseases that lead to accelerated ageing and premature death;


regular exercise reduces low-grade chronic inflammation, a condition underlying most chronic diseases;


regular exercise affects specific brain receptors, reducing pain and anxiety and preventing depression.


The Wellness Congress 2023 welcomed distinguished speakers such as:

Marco Cardinale, Executive Director of Research and Scientific Support, Aspetar (Qatar) who emphasized that the approach to treat patients should be alike to the approach to plan training programs for athletes, infact
Exercise is a true medicine and, for it to be effective, it must be prescribed and delivered with a specific dosage
Matthew Kampert, Sports Medicine Specialist and Director of the Exercise Medicine for Endocrinology & Metabolism Institute, Cleveland Clinic (USA) who stressed that if one waits too long before starting to exercise regularly, then in old age, when inevitable problems occur, the ability to return to normal will be lower.
Exercising is like accumulating resources for your old age: the earlier you start, the more reserves your body will have when you really need them in adulthood
Robert Newton, Professor of Exercise Medicine, Edith Cowan University and Founding Director of ECU's Exercise Medicine Research Institute (Australia), talking about exercise as medicine for cancer patients stated that:
Through exercise, our muscles are able to produce actual medicines: these are hormones that have an effect on both the physical and mental state
Alberto Mantovani, Scientific Director, Istituto Clinico Humanitas, and Emeritus Professor, Humanitas University (Italy) who explained that health problems can cause inflammation, which is one of the major causes of premature ageing, and therefore the real enemy of longevity.
Regular exercise is one of the immune system's best allies in steadily reducing the level of inflammation and, consequently, contributing to healthy longevity
While the morning focused on scientific talks on the role of exercise in preventing and treating the main chronic disorders, the afternoon was structured into 'precision training workshops' at the Wellness Center, discussing tailored programmes, measurement of parameters, assessment of patient improvements through advanced Technogym equipment.

Addressed to the international medical community, the 25th edition of the Wellness Congress  involved participants from 13 countries, strongly committed to encourage a more active role of doctors and health professionals in promoting physical activity and exercise, both for the well-being of patients and for the sustainability of healthcare systems.